Alicia Blore is an MNO citizen with historical ancestral ties to the Red River Settlement in Manitoba. She didn't always know about her Métis ancestry growing up but still grew up with some of those key cultural traditions, like playing the fiddle. Since 2020, Alicia has been working with the Toronto and York Region Métis Council to develop and implement the COVID Support Program including all of the virtual workshops the council offers. We asked Alicia a few questions to learn more about her and what brings her inspiration!
Q1: What was your process of learning more about your Métis identity?
Some families knew about their ancestry for quite a long time, others didn't, including my family. It was kind of hidden – often Métis people are associated with the phrase "hidden in plain sight" – looking back there's been so many things where you're like "oh, that's a Métis thing". For instance, a lot of my family is still in Manitoba and I would go back to Manitoba every other summer and see my relatives playing the fiddle, dancing, jigging, baking bannock, and speaking a "funny french language" known as Michif. I always thought that that's what all Manitobans did, not realizing that's what Métis people do! So ya, discovering and making those links was key to learning more about my family, my Metis identity, and myself. It wasn't until I was a teenager that I learned we had Indigenous background, and that some people in my family had these Métis cards. After many years, we accidentally connected with some of our family that had moved to Ontario that we didn't know and it turns out they were the President and Senators of the North West Métis Council in Dryden. And that's our long process of getting proof of our ancestry with the MNO.
Q2: What has been your involvement with the TYRMC/MNO thus far?
I learned how to play the fiddle at a young age and I was doing a lot of mainstream Canadian old-time fiddle music, doing competitions and learning Canadian fiddle tunes but I wanted to learn the tunes that my pepere played: Métis style fiddle music. We got connected with a fiddle teacher here in Toronto named Anne Lederman, who's the leading researcher for Indigenous Canadian fiddle music. I learned some tunes from her and she told me about a project to bring elders together with youth to teach them the oldest surviving fiddle tunes and I kind of got thrown into that just by accident. Ever since, I've been playing those tunes from elders and I started to play a lot in the community, especially at first at the Oshawa Durham Region Métis Council events. Through those events I learned about other programs that the MNO offers and I became an MNO summer student every year, and eventually a full-time staff at the MNO!
Q3: What do you like about the TYRMC community?
We are a pretty large community, spread out over a big urban space, but what I like about it is our diversity. Everyone here comes from different parts of the Métis Homeland and I like hearing and seeing the different perspectives from Métis in Alberta or BC versus someone who's grown up and been in the community of Sault Ste. Marie, Thunder Bay, Penetanguishene, or Drummond Island. We all come from different parts of the Homeland but we all come together and make it work and we get to be stronger because of our diversity. There's so much more to learn because of the differences between all the communities, like different ways of dancing, of music, of growing plants and medicines, all these kinds of things.
Q5: What and/or who inspires you?
Someone who inspires me is my Pepere (great-grandfather), who got me into fiddling. When I was younger I went to go visit him and one of my first memories is going to his house as a 3-year-old, and in his house he had this display case filled with trophies. Nice sparkly ones with red and blue and gold and silver. From there, looking up at this display case and seeing all these sparkly wonderful things had me asking "how did you get those?". I learned that he won the trophies from fiddling competitions and I found it so cool, I learned to play the fiddle because my view was "How do I get as many trophies as you?".
Q6: What achievements are you most proud of?
I would say most recently my top three would be: Myself and a few other Youth from the community were part of the Cirque du Soleil's production of the opening ceremonies for the Pan Am Games in 2015. It was really cool being a part of that whole production and I probably lost like 80 pounds because I had to jig like 4 days a week! Getting to experience the energy of a stadium full of 50,000 people and showcasing our Métis fiddling and dancing was really fun. More recently, this past summer I won first place in the championships at the Back to Batoche Fiddle contest! And then this Fall I got a call to go and play for the Governor General and the Prime Minister's Inauguration Ceremony, which was a cool and nerve-wracking experience, playing for a room full of ministers and government officials on national Television.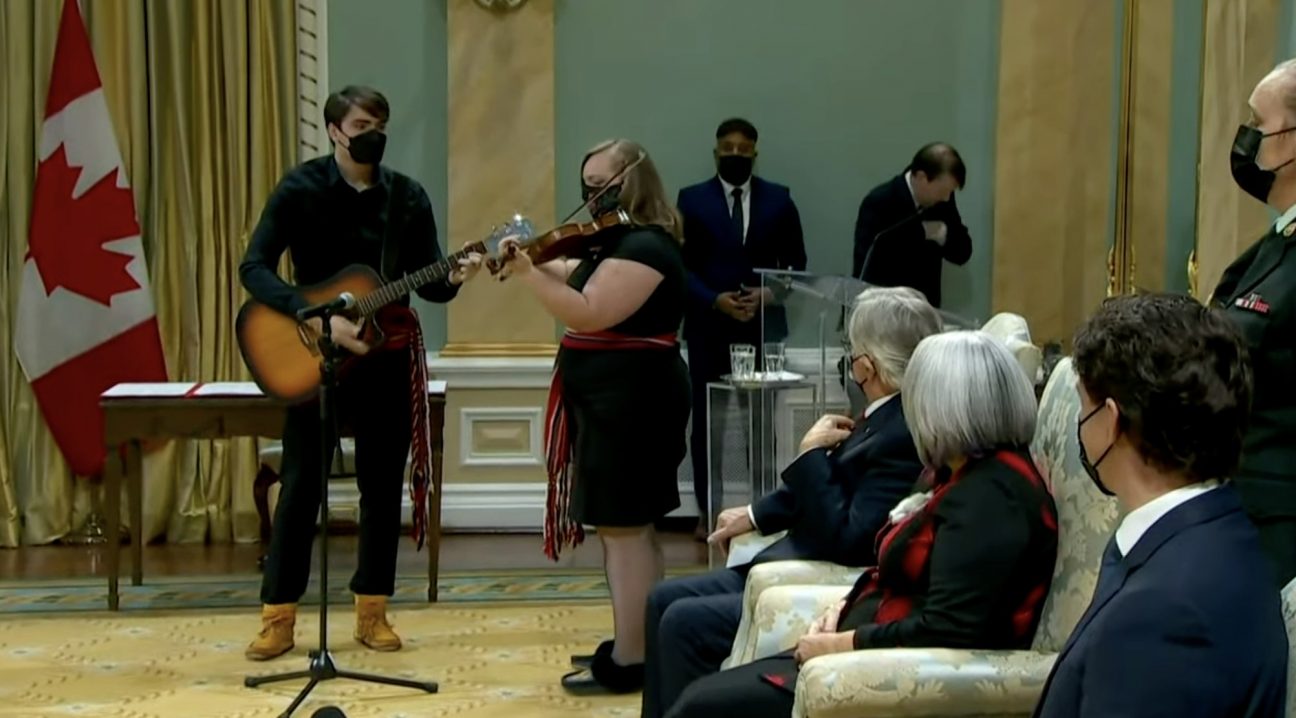 Q7: What would people be surprised to learn about you?
Not really a surprise but I also enjoy doing Métis crafts in my spare time like beading, tufting, and finger weaving little items. I would like to keep learning more about different aspects of Métis culture and way of life. Crafts, music, jigging, and learning those Métis tunes that might have come from really old communities – keeping that tradition alive.
Q11: What excites you right now/what's bringing you joy?
Lately I've been teaching people how to play the fiddle, and teaching them the style of music that comes along with Métis traditions. It excites me that there are other people in the community who are interested in learning about the music and how to play. My hope is that some of these people keep practicing and learning and one day we can have a big Métis fiddle fest in Ontario!
To see Alicia play, visit her at