The News section contains written highlights of news (and can include photos) that will be relevant to the TYRMC community exclusively. These include brief recaps of meetings, consultations, or election information, but could include important news about individual TYRMC citizens too.
The goal of the News section is to give other TYRMC citizens a sense of what's happening in your community. Note that we have a separate website section featuring recaps/coverage of events and workshops – if you'd like to contribute a feature on an event or workshop, please grab an Event Highlight template.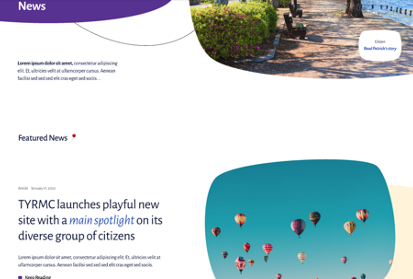 Format
There is no predetermined length for news story coverage. The level at which you want to address each of these questions depends on what you're covering and how far you want to delve into it.
What you'll need for your News piece
Information
There are 6 main questions you want to address in your coverage:
Who – Who is involved? Who will benefit? Who will be impacted?
What – What happened? What was surprising? What was important? What might be impacted?
When – When did it happen?
Where – Where did it happen?
Why – Why did it happen? Why will the audience care?
How – How did it happen? How are those involved affected?
Image/s
You don't need to include any imagery in a news piece. If you opt to include it:
Images should be a minimum of 1000 pixels wide or high and not too low resolution; if you can see the pixels in the image, then the resolution is too low.
If you're looking for a generic image (e.g., a photo of a lake, trees, Toronto City Hall), you can use free stock imagery. Here are a couple of sources for stock that are license-free and you can use without attribution:
Preparing to cover a news event
Review any information supplied to you about the news story to figure out what details you might need to get at the event.
Along with taking good notes, consider capturing an audio recording for your own purposes if allowed. Don't rely on your memory to keep track of the things that stood out to you, write down as many takeaways from the event as possible.
No one is anticipating dazzling journalistic skills in these pieces. Your audience is always your TYRMC community citizens – picture yourself talking to a fellow citizen when you're writing your summary. A good way to start is to quickly jot down the main aspects of the event you'd like to cover in point form.
Work with the tools you have. Your cell phone will work just fine to shoot a few images.
Ask Permission
If you're taking pictures for your news story, make sure you have permission. If you're covering news from an event, confirm with the organizer if there's a photography policy and honour it. Some organizers may have conditions around what can be photographed and/or prefer that you use photos from a designated photographer. When you're using someone else's shots, ask if you need to include a credit line. Here is a sample of information in a credit line and how to use it in a posting.
Confirming information
If you're sharing anything from a speaker (their work, a quote, other information), confirm that you have their name and any other pertinent information about them or their organization spelled correctly. If they have a website, social handle, or another tag that you'd like to include in your recap or news story, make sure to mark it down.
Proofread your News story before you prepare to submit it. A few tools that may come in handy:
Submitting a News Story
To submit your news story, pop the following into an email and send it to council@tyrmc.org
Any images you would like to include. If you have multiple photos that should appear in a specific sequence, label them accordingly e.g., SuzanneSmith1, SuzanneSmith2

If you'd like a specific image to appear before a specific piece of text, please indicate it in the text, e.g., (insert SuzanneSmith3)

A Word document or link to a Google document:

The name of the news piece, e.g., TYRMC launches playful new site with a main spotlight on its diverse group of citizens
If you are using headings and sub-headings, indicate them. Make headings bold, and separate sub-headings with an extra line space between the heading and the paragraph text.
Include any tags that may be relevant to your news e.g., Youth, 2SLGBTQ+, Women
Make sure any links you want to include are embedded in the text e.g., The sitemap for the consultation is available on the City of Toronto website.
Looking for a downloadable version of this template? Download one here.