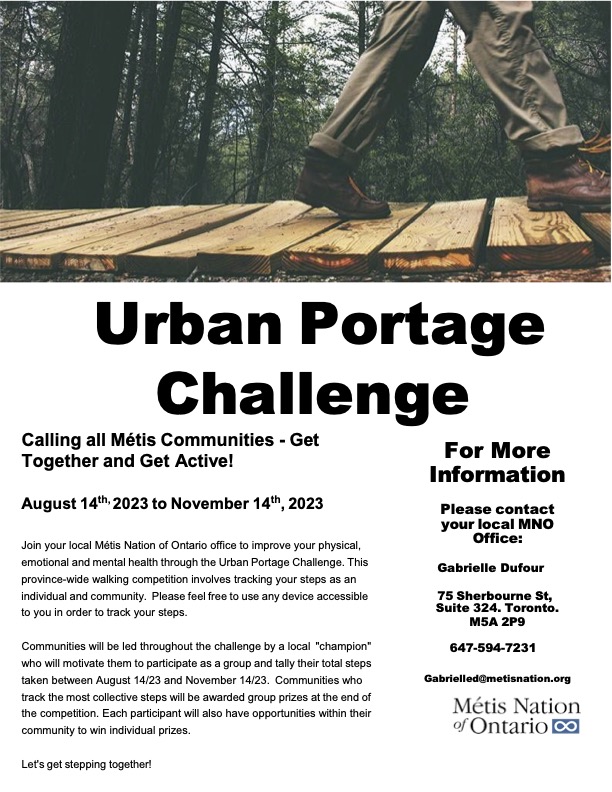 Urban Portage Challenge 2022-23 – F.A.Q.
Who is the contact in my community for the Urban Portage Challenge?
There has been a "Community Champion" assigned to each community and that individual will be the primary contact for the Urban Portage Challenge. A list of Community Champions will be made available locally and provincially.
How do I get information or register for the Urban Portage Challenge? Participants can contact "Community Champions to register over the phone or by email. Registration forms will also be available at community offices from August 15th2023 to November 14th, 2023 for participants to self-register.
How often should I record my steps? Please feel free to use the best method for yourself to ensure effective tracking.
How often do I send my tracking form to the Community Champion?
The following information is required to be submitted to your community champion. Please refer to the "Step Submission Date" in order to ensure you are reporting to your champion on time.
Participant Name
UPC Community
Participant Email
Participant Phone Number
Step Submission Date
Aug 28th, 2023
Sept 11th, 2023
Sept 25th, 2023
Oct 9th, 2023
Oct 23rd, 2023
Nov 6th, 2023
Nov 13th, 2023
What is the last date I can submit my tracking forms? The deadline to submit tracking forms will be Nov 13th, 2023. "Community Champions" will not accept any tracking forms after this deadline.
What activities will count? Any activity that the pedometer/device of choice is able to measure steps will count. Pedometers, Fit Bits, Smart Watches and Smart Phone step tracking apps are all eligible.
Can MNO staff participate in the challenge and steps be counted? Yes, absolutely all MNO staff are encouraged to participate in the challenge.
Can MNO staff – family (immediate) family participant in the challenge and steps be counted?
Yes, step together as a family and as a community.
What is a walking community? A walking community for the purpose of the Urban Portage Challenge are the following 28 communities listed below and other rural communities within 100 kilometers of the community's geographical area. These communities will be used as a competition hub and will include participation from the smaller areas associated with the Community Council(s) in their vicinity.
Atikokan & Fort Frances
Thunder Bay & Geraldton
Kenora
Dryden
Chapleau & Blind River
Sault Ste Marie
Sudbury
Timmins
Haileybury & Cochrane
North Bay
Gravenhurst
Owen Sound
Midland
Barrie
Mattawa & Renfrew
Ottawa
Kingston
Napanee
Peterborough
Bancroft
Oshawa
Toronto
Brampton
Kitchener
Brantford
Thorold
Windsor