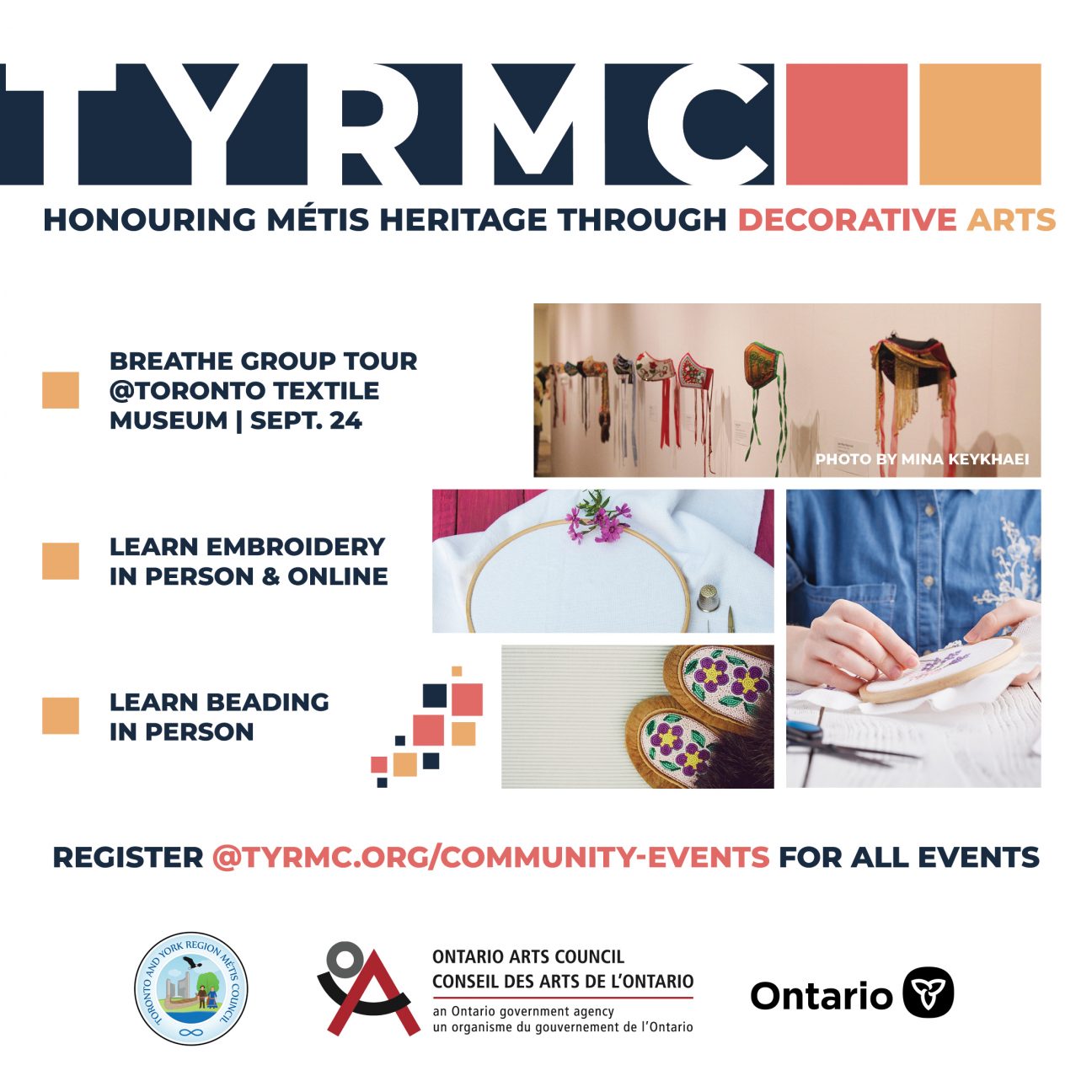 The Toronto and York Region Métis Council is excited to present the Honouring Métis Heritage Through Decorative Arts program. This program, funded by the Ontario Arts Council through the Government of Ontario, will showcase our rich history and cultural artistic traditions. By attending, you will have the opportunity to discover the historical roots of traditional Métis decorative arts practices and learn from our talented knowledge keepers and artists.
This is a multi-phase program that will feature both in-person and virtual events and workshops. The first phase of the traditional art workshops will focus on learning to bead and embroider followed by a second phase where you will then decorate a small bag with the artistic techniques you have learned. You may choose the sessions you wish to attend by completing the registration forms. More details and registration for the second phase will be provided soon.
Note:
The program is open to individuals who:
Self-identify as Métis
Age over 16 years – those 15 and under must be accompanied by an adult

Registration is required, as spaces are limited. Priority will be given to Métis who live or go to school in Toronto York Region. More details will be provided to you once registration is complete.
1. Breathe Exhibit Guided Tour
The program will kick off with a guided tour at the Textile Museum of Canada of the Breathe Exhibit featuring decorated masks by Métis artisans Lisa Shepherd, Nathalie Bertin and others. View more information of the exhibit here https://textilemuseum.ca/event/breathe/.
Date: Sunday, September 24th
Meet up time: 1:45 pm
Where: Textile Museum of Canada, 55 Centre Avenue, Toronto
Registration link for Breathe Exhibit Tour https://forms.gle/NpUXSTJ28wA4JJkg8
2. Embroidery
At one time, Embroidery was one of the most popular Métis decorative art forms.

Join our two-part Embroidery series to learn beginner embroidery techniques with TYRMC citizens Megan Southwell and Alicia Blore. Supplies are provided at the in-person workshop or will be mailed to you for the virtual workshop.

For the first part of this series, Megan will instruct you in creating a stitch sampler. You can choose either the in-person or virtual learning stream to create your stitch sampler.
In-Person Embroidery 101 – Sampler Creation
Date: Wednesday, October 18th
Time: 5:45 pm to 8:00
Where: Bata Shoe Museum
327 Bloor Street West, Toronto

OR
Virtual Embroidery 101 – Sampler Creation
Date: Wednesday, October 25th
Time: 7:00 pm to 9:00 pm
Where: Via Zoom
For the second part of this series, Alicia will instruct you in applying the stitches you learned to create a flower. Registrants in either the In-Person or Virtual Sampler Creation workshops will automatically be registered in Embroidery 201 – Creating your Flower.
Embroidery 201 – Creating your Flower
Date: Wednesday, Nov 1st
Time: 7:00 pm to 9:00 pm
Where: Via Zoom
Registration link for Embroidery https://forms.gle/o3z8t78mf5gwDdWx8
3. Beading – In-Person
Are you interested in learning the ABC's of how to bead? Want to give beading a (re)try?

Join ONE of our in-person workshops to learn Beginner Beading techniques with TYRMC artisan Kathy Morgan. Supplies are provided for this in person workshop.

Date: Thursday, October 12th
Time: 6 pm to 8:30 pm
Where: Ethennonnhawahstihnen' Community Centre
100 Ethennonnhawahstihnen' Ln, North York
OR
Date: Saturday, October 21st
Time: 9:45 am to 12 pm
Where: Warden Hilltop Community Centre
25 Mendelssohn St, Scarborough
Registration link for In-Person Beading https://forms.gle/CMqAGwtEnedwTzAfA